Our newest book: Auntie Yang's Great Soybean Picnic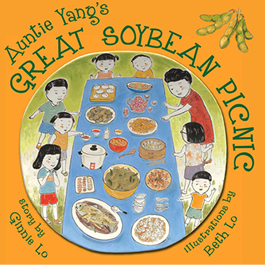 MaMa and BaBa
play mahjong all day long.
And all night long.
We hear the clicking of mahjong tiles
morning, noon, and night.
:: Big sister, JieJie, and her little brother, DiDi, see their parents playing mahjong all the time. It's their favorite family tradition. With Uncle T.T. and Auntie Helen around, the house is always alive with singing and chatting, the aromas of hot tea and good food, and of course the constant sounds of a family having fun together!
:: One day JieJie and DiDi will grow up and have families of their own and they will teach their children the game as their parents taught them. As it has done for centuries, the playing of mahjong continues to bring families together, allowing for additions to be passed on generation after generation.
Ages 3-8
Available in Bookstores